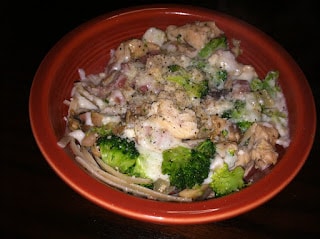 Ingredients
3 chicken tenderloins, chopped
5 oz pancetta, chopped
1/2 onion
1 cup broccoli
1/2 cup mushrooms, chopped
2 garlic gloves, minced
1/4 cup peas, frozen
Sauce
1/2 stick of butter
1 cup milk
2 garlic cloves, minced
1 tsp Tuscan Herb olive oil
flour
grated parmesan cheese
1 lb pasta
Directions:
In a medium skillet drizzle pan with Tuscan Herb olive oil and cook pancetta and chicken until golden brown. Add in 2 cloves of garlic, onion, broccoli, mushrooms. Cook for an additional 5 minutes. Set side.
In a medium sauce pan, cook pasta per package instructions.
In a small sauce pan, melt butter on low heat. Slowly add in the milk. Add in final 2 cloves of minced garlic. When milk is warm whisk in flour, adding small amounts at a time. Keep whisking in flour until you have your desired consistency for your sauce. Whisk in a touch of parmesan cheese and a teaspoon of Tuscan Herb olive oil. Serve sauce immediately.
Mix in pasta with chicken and pancetta vegetable mixture. Serve immediately and top with your sauce.
If you are interested in purchasing the Tuscan Herb olive oil used in this recipe, visit our  online store!