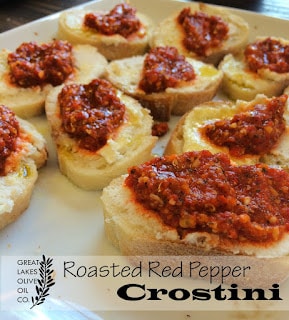 Ingredients
Another great crostini recipe! This crostini was the favorite of the Crostini Party guests at our free tasting event in September. A delicious blend of garlic, red peppers and herbs creates an authentic Italian flavor. Great appetizer option for parties, tailgates or even when you need to use up that extra ricotta cheese!
1 loaf french bread, sliced and toasted
8 oz jar roasted red peppers
1 garlic clove
1 tbsp parmesan cheese
1 tsp basil
1 tsp oregano
2 tbsp Champagne balsamic vinegar
salt and pepper
1/2 cup ricotta cheese
Basil olive oil for drizzling
Directions
In a food processor, combine the red peppers, garlic, parmesan cheese, basil, oregano, champagne balsamic and salt and pepper; pulse until smooth.
When bread is ready, layer bread slice with ricotta cheese and top with red pepper mixture. Drizzle crostini with olive oil right before serving.
If you are interested in purchasing the Champagne balsamic vinegar or Basil olive oil used in this recipe visit our online store.