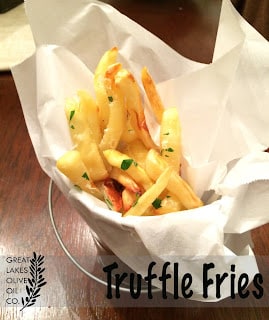 Who doesn't LOVE truffle fries?! If it is listed on a restaurant menu, I have to order them. But these classic fries are not just for restaurants. You can easily make them at home. You can either make them the easy way, using frozen french fries from your grocery store, or you can peel and slice russet potatoes.
TRUFFLE FRIES
Ingredients
Cooking spray
2 large baking/Russet potatoes, peeled, cut into "fries"
Salt and freshly ground black pepper
1 tbsp white or black truffle oil
2 tsp grated Parmesan cheese
parsley, minced
Directions
Preheat the oven to 400 degrees. Coat a large baking sheet with cooking spray.
Arrange potatoes on prepared baking sheet. Spray potatoes with cooking spray and season with salt and pepper.
Bake for 25 to 30 minutes, until the potatoes are golden brown and crisp.
Immediately after removing fries from oven, drizzle with truffle oil and toss fries to evenly distribute. You will be tempted to use more truffle oil, but don't! A little oil will go a long way. Sprinkle parmesan cheese and parsley. Serve warm.
You can purchase the truffle oils used in this recipe by visiting our online store