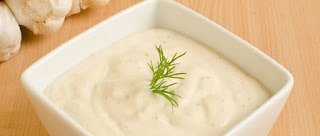 If you aren't familiar with aioli's that's okay. It just a fancy term for a mayonnaise based spread. Aioli's are so versatile, you can use them on sandwiches, burgers, fish, vegetables, and French fries just to name a few.
This recipe is pretty amazing because you can swap out the garlic oil for our cayenne chili pepper oil for a spicy aioli.
Garlic Aioli
Ingredients
Garlic olive oil
Kosher salt and freshly ground black pepper
1 cup mayonnaise
1/3 cup fresh lemon juice
2 tablespoons grated Parmesan
1/2 tablespoon Dijon mustard
1/8 teaspoon cayenne pepper
Dash of Worcestershire sauce
Directions
In a small bowl, combine garlic olive oil, mayonnaise, lemon juice, Parmesan, Dijon mustard, cayenne pepper, Worcestershire sauce and some salt and pepper. Whisk until well combined.
Refrigerate to allow the flavors to merry together.
Serve with vegetables, sandwiches, or fish.
If you would like to purchase the garlic oil used in this recipe visit our online store.