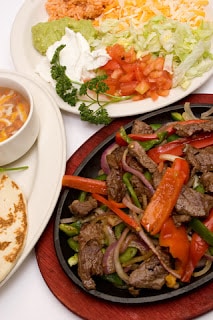 Ingredients
This the left over Balsamic Flank Steak recipe, these steak fajitas can be a quick and easy weeknight meal.
garlic olive oil
1 onion, sliced
1 green bell pepper, sliced
1 red bell pepper, sliced
1 orange bell pepper, sliced
Leftover Balsamic Flank Steak, sliced thinly
cayenne chili pepper olive oil
Directions
In a large skillet, drizzle a small amount of the garlic olive oil over medium heat. Add in the onion and all bell peppers. Sprinkle with salt and pepper and cook until the onions become translucent. Stir in the left over flank steak. Stir in about a tablespoon of the cayenne chili pepper olive oil, add a touch more if you want more spice! Cook for a few minutes until the steak has been brought up to temperature.
Try pan frying corn tortilla shells in our organic lime olive oil to add some extra flavor to your shells.
Serve steak and vegetable combination over tortilla shells with lettuce, cheese, avocados, sour cream and salsa.
To purchase the garlic olive oil or cayenne chili pepper olive oil used in this recipe, visit our online store!