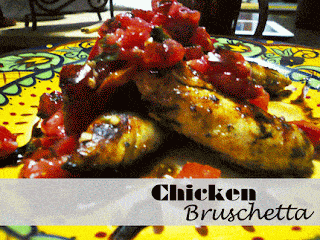 Ingredients

This recipe is bursting with amazing flavor! Not only is it great for a quick weeknight meal but is elegant enough to make for dinner parties. You are sure to get rave reviews from this one!
You can make the bruschetta ahead of time to make your day of meal preparation quick and easy.
Directions
Bruschetta:
2 ripe tomatoes, chopped
3 garlic cloves, minced
2 freshly picked basil leaves, minced
olive oil
salt and pepper to season
Combine the tomatoes, garlic and basil in a bowl and season with salt and pepper. Drizzle in a small amount of olive oil and stir. Cover the bowl with plastic wrap and refrigerate until chicken is finished cooking.
Chicken:
4 chicken breasts
Tuscan Herb Olive Oil
Oregano Balsamic Vinegar
Salt and Pepper
Olive Oil
Season chicken with salt and pepper. Place the chicken in a ziplock bag. Drizzle the Tuscan Herb olive oil and the Oregano balsamic vinegar over the chicken. You want enough to thoroughly coat the chicken. Place ziplock bag in refrigerator for a couple hours to allow chicken to marinate.
Using the same olive oil you used to make the bruschetta, drizzle a few tablespoons into a large skillet over medium high heat. Remove chicken from ziplock bag and place in skillet, pour in any extra olive oil and vinegar marinate that is remaining in bag. Cook chicken for approximately 3-5 minutes on each side or until chicken is golden brown.
Balsamic Reduction:
1/2 cup Traditional 18 Yr. Balsamic Vinegar
While cooking the chicken you can make the balsamic reduction. In a small saucepan over medium heat add balsamic vinegar. Bring balsamic vinegar to a light simmer. Allow balsamic to simmer until it has reduced by half. Once balsamic has reduced remove from heat and set aside.
To plate this delicious meal. Place cooked chicken in center of plate. Spoon a small amount of the bruschetta right on top of the chicken. Using a spoon, drizzle a small amount of the balsamic vinegar over the bruschetta topped chicken and serve!
To purchase the Tuscan Herb olive oil, Oregano balsamic vinegar, or Traditional 18 Yr. balsamic vinegar used in this recipe, visit our online store!