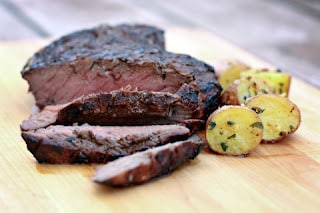 Ingredients
This recipe uses our Traditional 18 Year Balsamic Vinegar, however you can substitute the Traditional with any of our flavored balsamic vinegars. Try grilling the steak with the Black Cherry for a decadent and rich flavor.
2 flank steaks
salt and pepper
2 tbsp traditional 18 year balsamic vinegar
Directions
Season steaks generously with salt and pepper. Place steaks in ziplock bag and add balsamic vinegar. Make sure the balsamic coats the entire surface of the steaks. Let sit for about 30 minutes, allowing steak to come to room temperature.
Place steaks on a medium-high temperature grill. Cook for approximately two minutes per side. This will allow the steak to be medium-rare in the center. Cook slightly longer if you prefer your meat medium to medium well. Remove steaks from grill and place on a platter. Let the steaks rest for a few minutes before cutting them, this will allow the steak to reabsorb its juices.
Serve and enjoy!
To purchase the Traditional 18 Yr. balsamic vinegar used in this recipe, visit our online store!