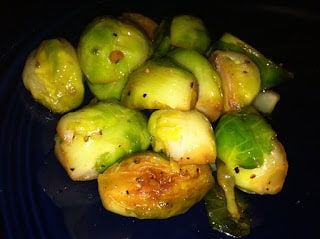 Ingredients
Chipotle Olive Oil (can be substituted with Harissa Olive Oil)
½ lb. Brussel Sprouts
½ onion, chopped
3 garlic cloves, minced
Lemon Balsamic Vinegar
Salt and Pepper
Directions
Wash brussel sprouts in a colander. Pat dry with a paper towel. Cut brussel sprouts in half, set a side.
In a medium sauté pan turn heat to medium high. Drizzle Chipotle olive oil in pan, about 1-2 tbsp. Add in brussel sprouts, onion and garlic, sauté about 5 minutes, season vegetables with salt and pepper. Add 1 tbsp. of Lemon Balsamic Vinegar, sauté an additional 2 minutes. Transfer vegetables to a serving dish.
Serves 4 – 6
If you are interested in purchasing the Chipotle olive oil or Lemon balsamic vinegar visit our online store!