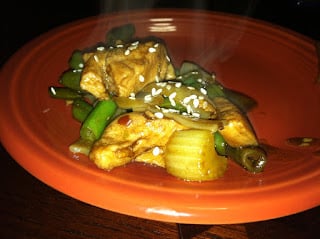 Ingredients
Please feel free to use your favorite vegetables in this recipe. You can serve this recipe over rice, noodles or serve as is.
2 chicken breasts, chopped
½ onion, chopped
½ cup celery, chopped
2 garlic cloves, minced
½ cup frozen green bean
1 tsp. crushed red pepper flakes
Blood Orange Olive Oil
Tangerine Balsamic Vinegar
Soy Sauce
Corn Starch (optional)
Salt and Pepper to taste
Directions
Season chicken with salt and pepper. If you have our Orange Pepper seasoning you can use that to season the chicken as well.
In a large skillet drizzle about 2 tbsp. of Blood Orange Olive Oil. Add in the chicken, sauté for about 5 minutes. Add in onion, celery, garlic and crushed red pepper flakes, sauté an additional 3 minutes. Add in green beans. Add about ¼ cup Tangerine Balsamic Vinegar and a dash of soy sauce. Let Tangerine Balsamic reach a light simmer for a couple of minutes. You can stir in a small amount of corn starch to add some thickness to the sauce.
Sprinkle sesame seeds over stir-fry before serving. Serve over rice or noodles.
If you are interested in purchasing the Blood Orange olive oil or Tangerine balsamic vinegar visit our online store!