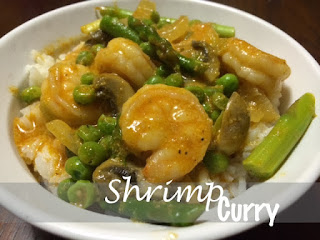 Garlic Olive Oil
1/2 onion, minced
1/2 cup mushrooms, sliced
1/2 bunch asparagus, ends trimmed and cut into 1-inch pieces
1 (14.5 oz) can coconut milk
3 Tbs. red Thai curry paste
1/3 cup peas, thawed
1 Tbs. brown sugar
1/2 pound shrimp, peeled and deveined
2 cups Jasmine Rice, cooked
Prep Time: 10 minutes
Cook Time: 15 minutes
Directions
In a medium skillet sauté the onion, mushroom and asparagus for 2-3 minutes in the olive oil. Add in the coconut milk and bring to a simmer. Wisk in the curry paste and the brown sugar. Stir in the peas.
Add the shrimp and cook until pink, approximately 4-5 minutes.
Serve over rice.
To purchase the Garlic olive oil used in this recipe, visit our online store!