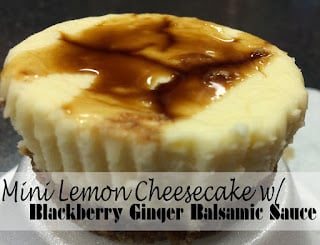 Crust Ingredients
2 cups graham crackers, crushed
1/4 cup light brown sugar
8 tbsp butter, melted
Direcrtions
Combine graham cracker crumbs with brown sugar. Stir in melted butter until well combined. Evenly divide mixture into cupcake holders.
Lemon Cheesecake:
4- 8oz cream cheese,  softened
1- 14oz sweetened condensed milk
4 eggs
1/4 cup lemon juice
1 tbsp lemon zest
1 tsp vanilla extract
Directions: 
Beat cream cheese in mixer until light and fluffy. Gradually add in the sweetened condensed milk and mix until smooth. Add eggs one at a time, making sure each egg is fully incorporated before adding in the next. Add the lemon juice, lemon zest and vanilla to the mixture and continue to beat until completed combined. Evenly distribute mixture into cupcake holders. Bake for approximately 25-30 minutes. 
Blackberry Ginger Balsamic Sauce
1 1/2 cups blackberries, frozen or fresh
1 cup water
1/2 cup blackberry ginger balsamic vinegar
1 tbsp sugar
3 tbsp honey
pinch of salt
Directions:
In a sauce pan over high heat combine the blackberries and water. Mash the blackberries. Bring to a boil. Pour mixture through a fine mesh sleeve to remove any seeds. Pour liquid back into pan and add balsamic, sugar and pinch of salt. Bring to a roaring boil for about 5 minutes then add honey. Reduce temperature and simmer sauce until its reduced by half. Let cool before drizzling over cheesecake.
To purchase the Blackberry Ginger balsamic vinegar used in this recipe, visit our online store!