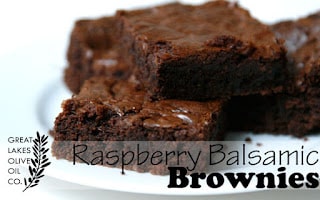 A chocolate lovers dream! These brownies are rich, decadent, and oh so delicious. And did I mention, super easy?! If you were able to join us at the Lansing Chamber of Commerce Grub Crawl on June 9th, this is the recipe we used to make those, yes, those brownies. You won't believe how easy this recipe is.
You can also swap out the raspberry balsamic for one of your favorite flavors.
Raspberry Balsamic Brownies
Ingredients:
1 box of brownie mix, any variety
2-3 tbsp. raspberry balsamic
Directions:
Preheat oven to box recommended temperature.
Combine all ingredients according to box instructions. Add in 2-3 tablespoons of raspberry balsamic to wet mixture.
Pour into baking pan, size according to box instructions.
Bake brownies as stated on box instructions. Check doneness by sticking a tooth pick in center. If the tooth pick comes out with pieces of brownie stuck on it, they need more time to cook. The balsamic vinegar can add extra moisture, baking an extra 5-10 minutes per box instructions is typical, depending on your oven temperature.
When brownies are ready, remove from oven and let cool completely before cutting and serving.