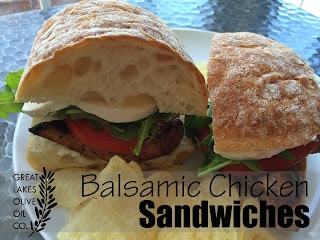 his delicious recipe is perfect for lunch or a light dinner. The chicken marinade creates a wonderfully savory flavor that will make this sandwich a delightful option that you will want to add to your weekly menu.
Balsamic Chicken Sandwiches
Ingredients
1 pound chicken tenders
2 tbsp olive oil
1/4 cup traditional 18 year balsamic vinegar
3 garlic cloves, minced
6 basil leaves, diced
Salt and pepper to taste
Ciabatta bread loaf
Arugula
Tomatoes
Fresh mozzarella
Garlic aioli
Directions
Place chicken tenders is gallon sized ziploc bag. In a small bowl whisk together olive oil, balsamic vinegar, garlic, basil, salt and pepper. Pour mixture over chicken. Place chicken in refrigerator and let marinate for at least one hour.
Grill chicken or bake in preheated oven at 350 degrees for 15-30 minutes. If you grill the chicken, grill on indirect heat.
To assemble sandwiches:
Slice ciabatta bread and smear bottom layer with garlic aioli. Layer with balsamic chicken, tomatoes, arugula and fresh mozzarella.
If you are interested in purchasing the balsamic vinegar used in this recipe visit our online store.