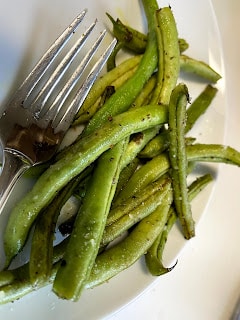 Ingredients
1 lb of fresh green beans

2 tbsp lemon olive oil

2 cloves garlic, minced

salt and pepper
Directions
Preheat grill to medium high heat.
Line a grilling basket with foil. 
Prep the green beans by snapping off the end, washing and pat drying. 
Once beans are prepped, place in prepared grill basket. Add minced garlic. Drizzle lightly with Lemon olive oil. Season with salt and pepper liberally. 
Place basket on grill. Cook beans, stirring occasionally for about 5 minutes. You want the beans to still have a nice crunch when bitten into. 
Transfer beans to a serving plate and enjoy!
To purchase the olive oil used in this recipe, visit our online store!