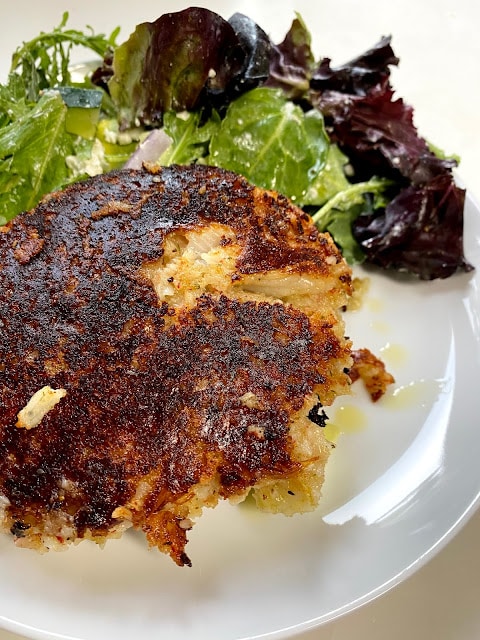 You can either make your own crab cakes or feel free to purchase at your favorite seafood supplier shop. The lemon vinaigrette and the simplicity of the side salad make a wonderful compliment to the flavorful crab cakes.
4 crab cakes
Lemon olive oil
Spring Mix salad blend
1 cup red onion, thinly sliced
1/2 cup diced cucumber
1/2 cup feta cheese
1/2 cup black pepper olive oil
1/4 cup lemon balsamic vinegar
salt and pepper
Directions
Heat a nonstick pan to medium high heat. Drizzle a little lemon olive oil in pan. When you can smell the lemony scent of the oil, add in crab cakes. Cook on each side for approximately 5 minutes, until a nice golden brown crust forms.
While the crab cakes are cooking, prepare the side salad. Grab a couple handfuls of the spring mix salad blend and place in a salad bowl. Add in red onion, cucumber, and sprinkle in feta cheese. 
In a small bowl, combine olive oil, balsamic vinegar and a pinch of salt and pepper. Whisk together until well combined. Drizzle over salad. 
Once crab cakes are ready, transfer to plates along with a serving of salad. Serve while crab cakes are warm. 
To purchase the oils and vinegars used in this recipe, visit our
online store!