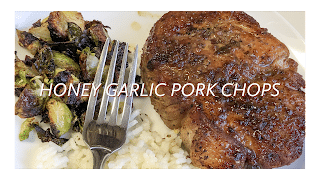 Honey Garlic Pork Chops Ingredients
3 boneless pork chops
Salt and pepper
1 tbsp garlic olive oil
2 tbsp unsalted butter
3 cloves garlic, minced
1/4 cup honey
1/4 cup chicken broth
2 tbsp Neapolitan herb balsamic vinegar
Directions
Preheat oven to 375 degrees. 
Season pork chops with salt and pepper, on both sides.

Heat up oven safe skillet on medium high heat. Add garlic olive oil and 1 tbsp of butter. Add pork chops to skillet and sear each side for 3-4 minutes, or until nice and browned. Remove pork chops from skillet and set aside. 

Add remaining butter to skillet and scrap up any bits stuck on bottom of pan. Then add minced garlic and sauté until fragrant. Add honey, chicken stock and balsamic vinegar and cook until sauce reduces and thickens slightly, stirring occasionally. 

Add pork chops back to pan and spoon sauce over top of pork chops. Spoon the sauce over the pork chops. Transfer to oven and continue to bake for an additional 15-20 minutes, or until they reach your desired doneness.
To purchase the olive oil and balsamic vinegar used in this recipe, visit our online store!