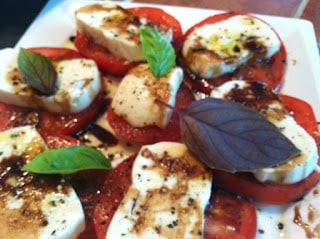 Ingredients
This delicious salad is a  favorite around Great Lakes Olive Oil Co. There is nothing like fresh tomatoes and mozzarella in the summer! We use our organic basil olive oil in this recipe but please feel free to substitute with organic herbs de Provence olive oil or organic tuscan herb olive oil.
2 tomatoes, sliced
2 oz mozzarella cheese, sliced
basil olive oil
traditional 18 yr. balsamic vinegar
salt & pepper
fresh basil leaves for garnish
Directions
On a platter alternate pieces of sliced tomato and sliced mozzarella cheese.
Place fresh basil leaves around platter for fresh, green garnish.
Drizzle the whole platter with olive oil followed by a light drizzle of the balsamic vinegar.
Sprinkle with salt and pepper to finish.
To purchase the Basil olive oil or Traditional 18 yr. balsamic vinegar, visit our online store!