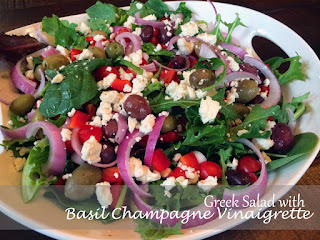 It's summer which means salads, salads, salads! This Greek salad has a great combination of salty olives and creamy feta. Don't ruin this incredible salad with store bought dressing. Try using the Basil Champagne Vinaigrette for a tangy, refreshing dressing that complements the salad perfectly.
Ingredients
1 head romaine lettuce, washed, chopped
3 cups spring mix lettuce, washed, chopped
1 cup olives, pitted
1 cup cherry tomatoes, halved
1 small red onion, sliced in approximately 2 inch slices
1 cup cucumber, diced
4oz feta cheese
Combine lettuces, olives, tomatoes, onion and cucumber in a large salad bowl. Toss gently to mix all ingredients. Top vegetables liberally with feta cheese.
Basil Champagne Vinaigrette
1 cup Basil olive oil
½ cup Champagne balsamic vinegar
¼ cup Oregano balsamic vinegar
To make vinaigrette, combine olive oil, champagne vinegar and oregano vinegar in a small mixing bowl. Whisk together ingredients until well combined and mixture has thickened  slightly.  Serve over Greek Salad.
To purchase the Basil olive oil, Champagne balsamic vinegar or Oregano balsamic vinegar used in this recipe, visit our online store!