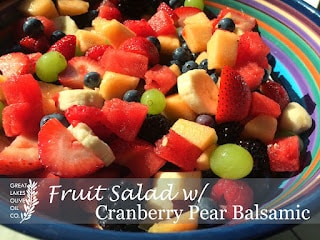 There is no better time to indulge in deliciously, ripe, fresh fruits than the summertime when they are at their peak of freshness! This fruit salad is a great option to serve during brunch for a large group or adjust the amounts and make just for one!
Ingredients
2 cups strawberries, washed, sliced
2 bananas, peeled, sliced
1 cup grapes, washed
1 cup watermelon, diced
1 cup raspberries, washed
1 cup blackberries, washed
1/2 cup blueberries, washed
1 cup melon, diced
Cranberry Pear balsamic vinegar
Directions
Combine all fruit into a large serving bowl. Toss gently to mix. Drizzle about a 1/4 cup of Cranberry Pear balsamic vinegar over fruit mixture. Toss gently to ensure all fruit is well coated with vinegar. Refrigerate for 10-20 minutes prior to serving. Serve chilled. 
To purchase the balsamic vinegar used in this recipe, visit our
online store!