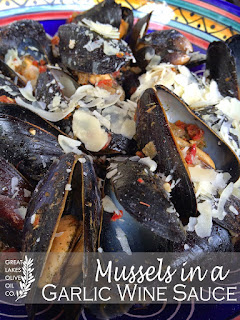 My family loves seafood and this recipe was a huge hit. Definitely a recipe that will be repeated throughout the summer while sitting on the back patio drinking my favorite Riesling! 
This mussel recipe is so easy and quick that it will work for a weeknight meal or for entertaining. The wine sauce is heavenly and is perfected paired with fresh mussels. If your not sure where to find fresh mussels check your local butcher to see if they receive fresh seafood deliveries.
Ingredients
2 lbs. fresh mussels
2 tbsp. butter
2 tbsp. garlic olive oil
1/2 of a small onion, diced
2 cups white wine
Stonewall Kitchen's Mussel Seasoning Mix
Parmesan cheese
Directions
When you purchase your mussels, the first thing you want to do when you arrive home is to unwrap them. This allows the mussels to breathe. 
Right before cooking the mussels you want to clean them by soaking in fresh cold water for approximately 20 minutes. The mussels will continue to breathe during the bath while removing sand and dirt from the shells. Most mussels have a "beard" attached to the outside of their shells. You will want to remove it before cooking. Check out this 
Youtube video
 on how to remove the beards. Once the beards are removed give the mussels once last good scrub with a tough bristled brush to remove the remaining dirt, salt and sand. You will want to discard any shells that are not tightly shut. 
In a large pot, heat the butter and olive oil over medium high heat. Add in the onion and cook for 3-5 minutes, until translucent. Stir in the Mussel Seasoning mix and wine. Bring to a boil.
Add mussels to pot, stirring well to get the mussels well incorporated into the sauce. Cover the pot and cook on medium high heat for 10-15 minutes, or until the mussels have opened. Discard any shells that have not opened. 
Pour mussels and sauce into a large serving bowl sprinkle a small amount of parmesan cheese over top of mussels. Serve immediately while hot. 
To purchase the olive oil used in this recipe, visit our
online store!