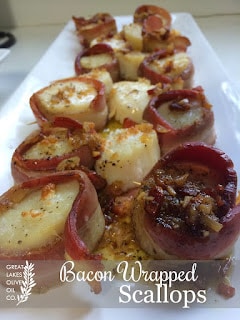 Another great seafood recipe that my family LOVES! Scallops could be their own food group in my house, especially when my sister comes in to town. One of the many reason why I love scallops is that you can prepare them in so many different ways; risotto, pasta, over rice, broiled, seared, bacon wrapped, the list goes on. When it comes to seafood, scallops are pretty mild in flavor. They really take on the flavor of the herbs and spices you cook them with so feel free to get creative. 
I love bacon anything, I mean come on who doesn't? So why not give one of my favorite seafoods a bacon makeover. This recipe is pretty easy and it only takes about 15 minutes for the scallops to cook! 
Ingredients
2 lbs Scallops, fresh
1 lb bacon, reserving 1 -2 slices for the sauce
For the Wine Sauce
Extra Virgin Olive Oil, non-infused or you can use infused flavored like: Basil, Garlic, Lemon, etc.
3 tbsp. butter
1-2 slices of bacon
1/2 of a small onion, diced
2 garlic cloves, minced
1/4 cup white wine
tsp. parsley
Directions
Preheat oven to broil. 
Pat scallops dry with a paper towel. Wrap one piece of bacon around each individual scallop, use a toothpick to hold bacon in place. Repeat process for each scallop. Place wrapped scallops on a baking sheet. Season scallops with salt and pepper to taste. 
Cook scallops for 15-20 minutes.
For the sauce:
In a medium pot, add in the bacon and cook for about 3-5 minutes. Add in the olive oil and butter. Stir occasionally until butter is melted. Stir in onion and garlic, cook until onion is translucent. Pour in wine and stir in parsley. Let simmer for about 10 minutes until sauce reduces down. 
Once scallops are done cooking, transfer to a serving tray. Pour sauce over top of scallops right before serving. 
To purchase the olive oil used in this recipe, visit our online store!