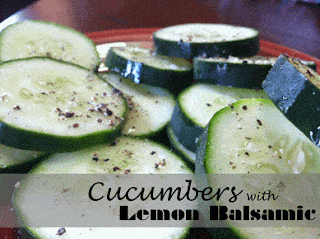 Ingredients

For a refreshing and light snack give this a try!
1 cucumber, sliced
1/4 cup Lemon balsamic vinegar
salt and pepper
Directions
Put sliced cucumber in a ziplock bag. Drizzle the balsamic over the cucumbers. Massage the cucumbers to make sure vinegar is evenly distributed over all cucumbers. Remove cucumbers from ziplock bag and season with salt and pepper.
To purchase the Lemon balsamic vinegar used in this recipe, visit our online store!