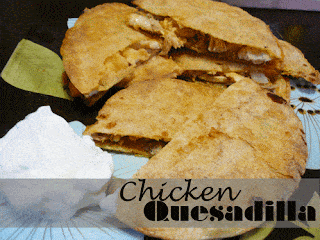 Ingredients
To make this a quick weeknight meal that you can make in no time, we took a few short cuts. First, buy a rotisserie chicken and shred the meat. Use a portion of this meat for the quesadillas and use the remainder for a meal later in the week!
This recipe makes 2 quesadillas per serving.
16 corn tortillas
1 cup rotisserie chicken, shredded
1/2 cup cheese, shredded
1 small onion, chopped
1 small red pepper, chopped
2 jalapeños, chopped
Lime olive oil
Directions
Preheat oven to 350 degrees. Place half of the tortillas on a baking sheet. Pour a small amount of Lime olive oil in a small bowl. Using a basting brush, brush lime olive oil over tortillas, then flip tortillas over so oiled side is facing down on baking sheet. The best way to layer the quesadilla ingredients is to use your hands. Take a small pinch of cheese and layer on top of tortillas, followed by the chicken, onion, red pepper and jalapeño and top it off with another small pinch of cheese. Place a tortilla shell on top of the layers and use the basting brush to brush a small amount of oil on the top side of the tortilla. Repeat layers on each tortilla.
Place baking sheet in oven and cook for approximately 15 minutes, then flip the quesadillas over and allow to cook for another 5-10 minutes or until tortillas are crispy.
Serve quesadillas with a side of lettuce, salsa, sour cream and guacamole.
To purchase the Lime olive oil used in this recipe, visit our online store!