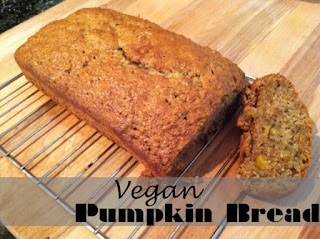 Ingredients

This delicious bread recipe was given to us by one of our great staff members, Jenny! You won't be disappointed when you make this deliciously warm bread this fall!
1/2 cup Olive Oil, plus more for greasing loaf pan
2 tbsp ground chia or flax seeds
Hot water
¼ cup water
1 cup pumpkin puree
½ tsp cinnamon
½ tsp nutmeg
1 ½ cups flour
1 cup sugar
½ tsp salt
1 tsp baking soda
1/2 cup walnuts, optional
Directions
Preheat the oven to 350. Thoroughly grease a standard loaf pan with 1 TSP Olive Oil.
In a small bowl, whisk together ground Chia or Flax seeds with 6 TBSP hot water.
Combine this mixture in a large bowl with: ½ Cup Extra Virgin Olive Oil or Walnut Oil, ¼ Cup Water, Pumpkin Puree, Cinnamon, Nutmeg.
In a separate, large bowl whisk together thoroughly: Flour, Sugar, Salt, Baking Soda
Combine the pumpkin and flour mixtures until just incorporated. *Optional: Add ½ cup chopped walnuts and stir.
Pour batter into loaf pan and place in oven. Bake until a toothpick inserted in the center comes out clean, 50 to 60 minutes. Turn bread onto rack to cool.
To purchase the olive oil used in this recipe, visit our online store!