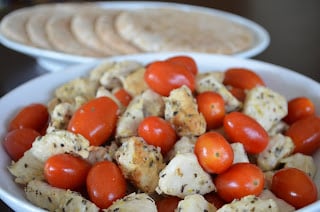 Ingredients
Chicken Souvlaki is usually served with Tzatziki, a yogurt sauce with cucumbers. This version has more cucumber than yogurt.
1 lb. Boneless, skinless chicken breast, cut into 2-inch cubes
3 tablespoons of extra virgin olive oil
2 garlic cloves, finely chopped (save some garlic for sauce)
1 Lemon, finely grate zest of whole lemon plus juice (save some juice for sauce)
1 tablespoon chopped fresh oregano
1 tablespoon chopped fresh basil
Coarse salt and freshly ground pepper
1 package of cherry tomatoes
1/2 cucumber chopped
1/2 cup fat-free greek yogurt
Whole wheat pitas
Directions
Cut up chicken breast and toss to coat with lemon zest, lemon juice, garlic, oregano, basil, olive oil, salt and pepper. Refrigerate, covered, for 45 minutes. Meanwhile, stir together remaining lemon juice, garlic, the cucumber and yogurt to create the Tzatziki sauce. Grill chicken. When chicken is almost finished cooking, add the cherry tomatoes. Put pitas on grill for about a minute per side to get them warm. Stuff pitas with chicken and top with Tzatziki sauce.
To purchase extra virgin olive oil visit our online store!