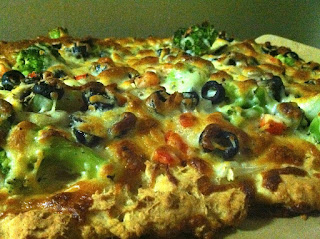 Ingredients
This recipe uses Bob's Red Mill Gluten and Wheat Free Pizza Mix, however, you can use any store bought pizza crust that your prefer.
1 box store bought pizza crust
Garlic Olive Oil
1 cup broccoli, chopped
1 cup onion, chopped
1 medium tomato, chopped
1 small green bell pepper, chopped
1 small red bell pepper, chopped
1/2 cup olives, chopped
16oz mozzarella cheese, shredded
1 tbsp. oregano, dried, split
1 tbsp. parsley, dried, split
Directions
Prepare pizza crust per box instructions.
Using a marinade brush, spread the garlic olive oil generously over the pizza crust. Spread half to the oregano and parsley on oil covered pizza crust.
Top crust with broccoli, onion, tomato, bell peppers and olives. Top vegetables with shredded cheese, making sure the cheese is spread evenly over entire crust. Top cheese with remaining oregano and parsley.
Cook pizza per box instructions.
To purchase the garlic olive oil, visit our online store!