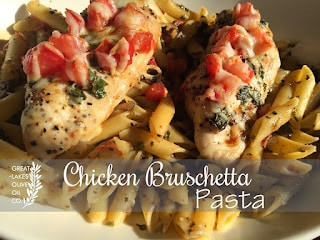 This chicken pasta recipe is a great option when needing a delicious recipe for leftover chicken. This pasta dish is bursting with fresh and aromatic flavors!
Ingredients for chicken:
Chicken Breasts (You can modify this to make as many chicken breasts as you'd like)
Rosemary Olive Oil
Salt and pepper
Basil (We used about 2-3 bail leaves per breast)
2 whole tomatoes
Shredded mozzarella Cheese
Your Favorite Great Lakes Olive Oil Co. Balsamic Vinegar, in this recipe we used the Traditional 18 Year
Ingredients for pasta
1 lbs. of pasta
1 package of mushrooms, chopped
1 medium onion, chopped
4 gloves of garlic, minced
salt and pepper
1/4 C. Fresh Basil, chopped
1/4 C. Fresh Oregano, chopped
1/4 C. Fresh Parsley, chopped
2 whole tomatoes
1/2 C. fresh shaved parmesan cheese
Rosemary Olive Oil

Directions For Chicken
Preheat oven to 350 degrees F. Place chicken in baking dish and drizzle on Rosemary olive oil. Season each chicken breast with salt and pepper and place in the oven. Bake for 20 minutes.

Chop basil and tomatoes. After 20 minutes remove chicken and top with basil, tomato and shredded mozzarella. Put back in oven to cook for another 10 minutes. Make sure to cook chicken to an internal temperature of 165 degrees F.

Transfer to platter and lightly drizzle Traditional Balsamic Vinegar over chicken breasts.

Directions for pasta
Bring 5 quarts of water to a boil. Add pasta to boiling water and cook according to package.


In large sauté pan, over medium heat, add 2 tablespoons of olive oil. When oil is hot, add chopped onion. Cook until translucent. Add mushrooms, tomatoes and garlic. Make sure to stir often, you don't want garlic to burn. After about 1 or 2 minutes mushrooms, tomatoes and garlic should be cooked through. Remove from heat. Add Freshly chopped basil, oregano and parmesan cheese. Add salt and pepper to taste.


Drain pasta and add to sauté pan and mix all ingredients together. Drizzle more of you favorite Great Lakes olive oil and mix until pasta is lightly coated. Transfer to serving bowl and top with Brushetta chicken.
To purchase the olive oil used in this recipe, visit our online store!