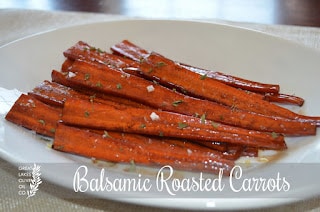 Ingredients
1 lb. Carrots
2 TBSP. of your favorite Great Lakes Olive Oil Co. non-infused olive oil
2 TBSP of Traditional 18 Yr. balsamic vinegar
Coarse salt
Dried or fresh parsley
Directions
Preheat oven to 400 degrees. Line a rimmed cookie sheet with parchment paper, if you don't have any just spray cookie sheet generously with non-stick cooking spray.  
Rinse, peel and cut carrots in half length wise and place carrots on cookie sheet.  
In a small bowl add olive oil and balsamic vinegar. Whisk until well mixed.  Pour olive oil and balsamic vinegar mixture over top of carrots. Toss carrots until well coated. 
Place in oven and roast for 30- 40 minutes, depending on how crispy or soft you like your carrots. Flip carrots half way through.  Remove from oven. Transfer to platter and sprinkle with coarse salt and parsley.
To purchase the oil and vinegar used in this recipe, visit our
online store!