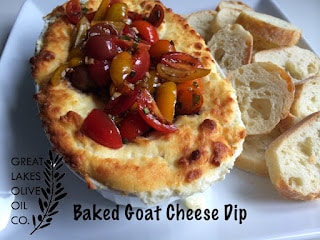 I love cheese! That may be the understatement of the year. I could totally do the non-dairy thing, give up milk, cream, butter, yogurt and not blink an eye. But ask me to give up cheese and that is a deal breaker! Cheese is practically it's own food group to me. So while I was flipping through the September issue of Food Network Magazine, I came across this recipe. I immediately thought about which of our delicious olive oils and vinegars would be perfect for this recipe and had to give it a try. While there are a lot of possibilities, I finally settled on using the Rosemary olive oil and the Traditional 18 Year balsamic. I chose these flavors because goat cheese has such a distinct, creamy flavor, I didn't want to use any oils or vinegars that were going to over power the cheese. But you can try using our Herbs de Provence, Tuscan Herb, or Garlic olive oils. You can find the original recipe on the Food Network's website.
Ingredients
1 10 oz log goat cheese, at room temperature

4 ounces cream cheese, at room temperature

1/3 cup grated parmesan cheese

1/4 cup Rosemary olive oil

1/2 cup cherry tomatoes, sliced tomatoes

2 tablespoons chopped fresh chives

2 teaspoons Traditional18 Year balsamic vinegar

1 clove garlic, minced

Salt & Pepper

baguette slices, for serving
Directions
Preheat the oven to 400 degrees F. In a food processor, combine the goat cheese, cream cheese, parmesan and about 2-3 tablespoons of olive oil, season combination with salt and pepper. Puree until smooth. Brush baking dish with olive oil, then spread the cheese mixture in the dish. Bake until golden and heated through, about 15-20 minutes. 
While cheese is baking, combine tomatoes, chives, vinegar and garlic in a medium mixing bowl. Drizzle in remaining tablespoons of olive oil. Season with salt and pepper. Toss to combine mixture. 
When cheese has finished baking, spoon tomato mixture over cheese and serve with baguette slices. 
To purchase the oils or vinegars used in this recipe, visit our
online store!