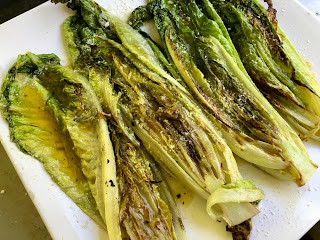 Char-grilled romaine lettuce is perfect for summer grilling season. It's light, crisp, and the lemon vinaigrette gives it such a clean, zesty flavor. You won't be disappointed with this one!
Ingredients
4 romain lettuce
1/4 cup Black Pepper olive oil, plus some for brushing on lettuce prior to grilling
2 tbsp Lemon balsamic vinegar
2 garlic cloves, minced
Salt & pepper to taste
Parmesan Cheese
Directions
Preheat grill to high heat.
Wash and dry lettuce. Remove any wilted lettuce pieces. Brush a small amount of olive oil over lettuce.
Transfer lettuce to grill. Grill on both sides for 2-3 minutes. Do not over cook as the lettuce will begin to wilt. Remove from heat and transfer to serving platter.
Whisk olive oil, balsamic vinegar, garlic and salt and pepper together in a small bowl.
Drizzle vinaigrette over grilled romaine and top with a sprinkle of fresh Parmesan cheese.
Click the links to purchase the Black Pepper olive oil and the Lemon balsamic vinegar.