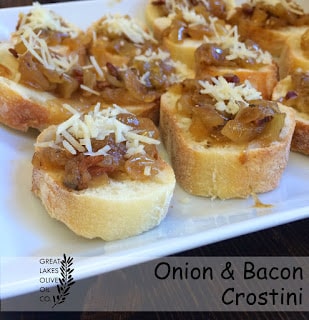 This delicious crostini was featured at our Crostini Tasting Party we had in our stores during the month of September. 
Ingredients
1 loaf french bread, sliced and toasted

4 slices bacon

4 lbs yellow onion, halved and thinly sliced 

1 tbsp sea salt

2 tsp black pepper

1/4 cup brown sugar

2 tbsp garlic olive oil

2 tbsp thyme

1 cup traditional 18 year balsamic vinegar

Parmesan Cheese for sprinkling

 
Directions
Heat a large stock pan or dutch oven over medium high heat. 
Cook the bacon until its crispy. Remove from heat and set aside to cool, keeping bacon fat in stock pan. Once cooled, chop bacon into fine pieces. Add the onion and sauté for about 10 minutes or until onions are soft. Add remaining ingredients including the chopped bacon to the onions. Cook uncovered until the onions and liquids have thickened, typically about 45 minutes to an hour.
Reduce heat to low and continue to cook until onions have caramelized. 
Serve over warmed bread and top with a sprinkle of parmesan cheese.
To purchase the oil and vinegar used in this recipe, visit our
online store!