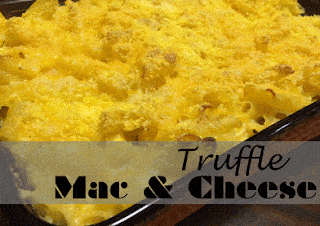 Ingredients
3 cups penne pasta
2 1/2 cups milk
2 garlic cloves, minced
2 tbsp dijon mustard
3 cups gruyere, grated
1/2 cup parmesan, grated
1 cup cheddar, grated
2 tbsp truffle oil, white or black
1/2 cup bread crumbs
Directions
Preheat oven to 350 degrees. 
Fill a large pot with water and bring to a boil. Add salt to water to season pasta. Add penne to the salt water. Cook for approximately 8 – 10 minutes or until al dente. Drain the pasta into a colander, keeping 1 cup of the pasta water. 
Return empty pot to stove top; pour in the milk, garlic and 1 cup of the leftover pasta water. Once milk mixture is simmering, add in the mustard and gruyere, stir until smooth. Add the parmesan and cheddar cheeses, stirring constantly. Once cheese is melted stir in truffle oil. Season with salt and pepper to taste. 
Add the penne to the cream mixture. Let pasta sit in cream mixture for about 5 minutes to allow pasta to  absorb sauce. 
Pour pasta and sauce into baking dish. Top with a thin layer of gruyere cheese and bread crumbs. Cook in oven for approximately 20 minutes, or until cheese has melted and bread crumbs have browned. 
To purchase the truffle oil used in this recipe, visit our
online store!