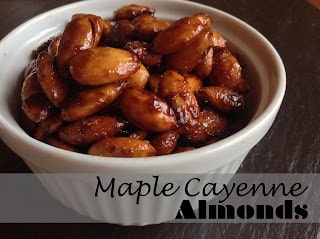 Adapted from mauiflourchild.com Balsamic Honey Roasted Almonds
Ingredients
2 c peeled almonds***
1 Tbsp Cayenne Oil
2Tbsp Pure Maple Balsamic Vinegar
2 Tbsp Honey
1 tsp sugar
1/2 tsp sea salt
pinch of cayenne pepper
Directions
Glaze:
In a saucepan over low, combine oil, vinegar, & honey, stirring constantly. Remove from heat when it starts to bubble. Allow to thicken and cool for approximately 10 minutes. Add peeled almonds and stir to coat.
Place almonds on parchment lined baking sheet in a single layer. Bake in 350 degree oven for 7 minutes. Stir almonds. Bake for 7 more minutes and remove from oven. Stir almonds and drizzle with salt, sugar and cayenne. Allow almonds to cool before serving or storing.
To purchase the Cayenne Chili Pepper olive oil or the Pure Maple balsamic vinegar used in this recipe, visit our
online store!