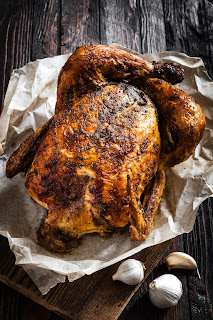 Ingredients
14 to 16-lb. whole turkey,  thawed, gizzards removed
Fresh sage
Fresh rosemary
Fresh thyme
½ of lemon
½ of onion
2 garlic cloves, whole (peeled)
Sea Salt
Pepper
Sage & Wild Mushroom Olive Oil
Directions
Preheat oven to 450 degrees.
Rinse turkey inside and out. Place bird, breast side up, on a roasting rack inside a roasting pan. Pat bird dry with paper towels.
Using twine, bundle sage, rosemary and thyme together. Place the twined herbs, lemon, onion and garlic in turkey's cavity. Season bird liberally with sea salt and freshly cracked pepper. Loosen skin at cavity's end and at neck with your fingers; spread salt and pepper under skin. Tuck wings across back of turkey and coat skin liberally with olive oil.
Roast turkey at 450 degrees for 30-40 minutes depending on how crispy you prefer the skin. Turn oven temperature down to 350 degrees. Insert a probe thermometer into thickest part of inside thigh, making sure not to touch bone. Continue to cook bird until thermometer reads 165 degrees, approximately 2-3 hours.
Let turkey rest for 15 minutes before carving.
To purchase the Sage & Wild Mushroom olive oil used in this recipe, visit our online store!