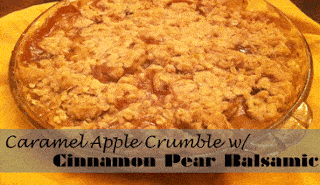 Ingredients
Crumble Topping:
½ cup flour
½ cup quick oats
1/3 cup sugar
½ tsp. cinnamon
8 tbsp. butter, melted
Filling:
4 apples, sliced and cored
1/3 cup sugar
2 tbsp. cornstarch
2/3 cup caramel sauce
2 tbsp. cinnamon pear balsamic vinegar
Directions
Preheat oven to 375 degrees.
Combine all crumble topping ingredients in a bowl and set aside.
Combine the apples, sugar and cornstarch in a bowl and toss gently. Transfer fruit mixture to baking dish. Drizzle caramel sauce over apple mixture followed by balsamic vinegar. Sprinkle crumble topping evenly over caramel sauce.
Place in oven and bake approximately 35 minutes, or until crumble topping has browned and apples are tender.
Serve with ice cream.
To purchase the cinnamon pear balsamic vinegar used in this recipe, visit our online store!