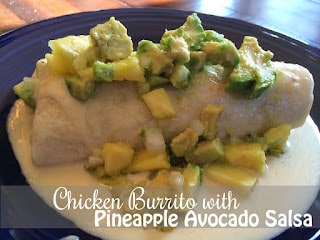 Ingredients
½ cup Green Chili Olive Oil, plus more for sautéing
¼ cup Pineapple Balsamic Vinegar
1 ½ cups shredded rotisserie chicken, shredded
1 small onion, diced
1 jalapeño, seeded, minced
4 burrito size tortillas
For the white sauce
2 tbsp butter
2 tbsp flour
1 ½ cups chicken broth
8 oz sour cream
1 ½ cups Monterey Jack Cheese, shredded
½ tsp paprika
Pineapple Avocado Salsa
2 avocados, pitted, diced, removed from shell
1 14oz can of diced pineapple, drained
1 small jalapeño, diced
½ cup red onion, diced
¼ cup Pineapple Balsamic Vinegar
¼ cup Green Chili Olive Oil
Directions
Place shredded chicken in a Ziplock bag with the Green Chili oil and Pineapple Balsamic, season with salt and pepper. Let chicken marinate in refrigerator for 2-3 hours. 
In a medium skillet drizzle a small amount of green chili olive oil; add the marinated chicken, onion and jalapeños. Sauté for approximately 5 minutes until chicken in thoroughly heated. 
In a separate large skillet, melt butter and sprinkle in flour. Whisk together and cook over medium heat for about one minute. Pour in chicken broth. Whisk together and cook for another minute or two. Reduce heat, then stir in sour cream. Add cheese and stir to melt. Add in the paprika, to give it a beautiful pinkish color. Check seasoning and add salt and pepper as needed.
In a medium mixing bowl, combine avocado, pineapple, jalapeño and onion. Season with salt and pepper, to taste. In a separate bowl, combine vinegar and oil, stirring until well combined. Pour oil mixture over avocado mixture and toss gently until well incorporated.  
To assemble to burritos, arrange the chicken mixture in the lower half of each tortilla, leaving about an inch border on all sides. Fold the bottom edge of each tortilla snugly over the chicken filling, tuck in the sides and roll tortilla tightly. 
Spoon a small amount of sauce over the burrito and top with Avocado Pineapple Salsa. Serve immediately.
To purchase the Green Chili olive oil or the Pineapple balsamic vinegar used in this recipe, visit our online store!