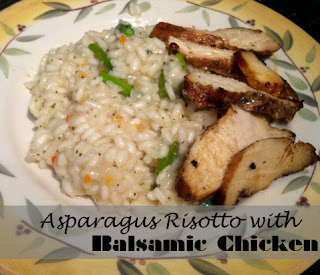 Ingredients

This great dish was submitted by one of our team members, Jenny. The creamy risotto pairs perfectly with the rich balsamic chicken.
Risotto:
6 Cups Chicken or Vegetable Stock
2 Cups Risotto
4 TBSP Sage & Mushroom Olive Oil
2 Shallots, finely diced
1 Cup Asparagus, trimmed to 1-inch pieces
½ Cup Vermouth or Dry White Wine
Parmesan Cheese
Salt & Pepper
Directions
In a small pot, bring stock to a simmer. In a large saucepan, heat 2 TBSP Porcini Oil. Add shallots and sauté until translucent. Add rice and stir to coat. When rice becomes opaque, add vermouth to pan and cook until it is absorbed. Add ½ cup simmering stock, stirring until liquid is absorbed. Continue adding stock ½ cup at a time. Add asparagus when adding the last of the stock to the pot. Add salt and pepper to taste.
Balsamic Marinade:
2 TBSP Sage & Mushroom Olive Oil
2 TBSP Fig Balsamic Vinegar
1 Clove Garlic, minced or pressed
½ TSP Salt
¼ TSP Black Pepper
1 TSP Italian Seasoning or other Herb Blend
1 Chicken Breast
Whisk all ingredients, except chicken, together until well combined. Pour into Ziploc bag and add chicken. Refrigerate for 1-12 hours. When ready to cook, remove chicken from marinade and pat dry.
Preheat broiler. Lightly coat glass or ceramic baking dish with olive oil. Place chicken in dish and broil for 8 minutes. Turn chicken and broil for 5 more minutes. Allow chicken to rest for a couple of minutes.
Dish up risotto, drizzling remaining porcini oil on top. Add grated Parmesan Cheese. Slice chicken and place slices on top of risotto to serve.
To purchase the Sage & Wild Mushroom olive oil or Fig balsamic vinegar used in this recipe, visit our online store!