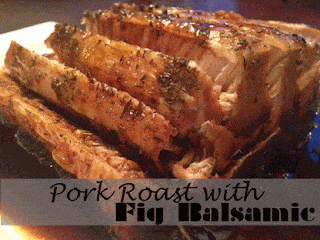 Ingredients
1 Pork roast, 3-5 lbs.
1 C. Fig balsamic vinegar
1/3 C. Honey
1.5 tbl Brown sugar
1 tbl dried rosemary
1 tbl dried Thyme
1 tsp salt
1 tsp pepper
Directions
Place pork roast in slow cooker and top with dry ingredients except for brown sugar. In small mixing bowl, combine balsamic vinegar, honey and brown sugar and mix. Pour mixture on top of roast. Cook on low for 6-8 hours or on high for 4-6.
Remove cooked roast from slow cooker. Cover and keep warm. Pour vinegar and juices from cooker into a saucepan and bring to boil. Let it reduce by half. Slice roast and top with vinegar reduction.
To purchase the Fig balsamic vinegar used in this recipe, visit our online store!