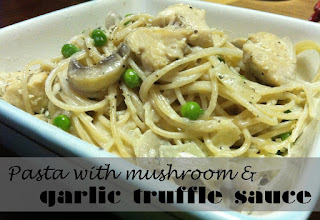 Ingredients
Garlic olive oil
1 chicken breast, diced
2 cups mushrooms, diced
1/2 cup onion, diced
1/2 cup chicken stock
1 cup heavy cream
1 tbsp butter
2 tbsp flour
1/4 cup frozen peas
1/2 tsp white truffle olive oil
fresh grated parmesan cheese
1 box angel hair pasta
Directions
In a medium skillet drizzle garlic olive oil in pan over medium high heat. Add the chicken and cook until chicken is golden brown, approximately 10 minutes. Add in the mushroom and onion, cook until the onion becomes translucent. Stir in the chicken stock, heavy cream, butter and flour. Allow sauce to come to a simmer. Stir in the peas and the truffle oil. Continue simmering the sauce to allow for some thickening.
While the sauce is simmering, bring a medium pot of water to a boil. Add in the pasta and cook to al dente. Drain the pasta. Keep a small ladle full of the pasta water and add it to the cream sauce.
Plate the pasta in desired bowl. Spoon the sauce over the pasta and top with freshly grated parmesan cheese.
To purchase the garlic olive oil or the truffle oil used in this recipe, visit our online store!